Work Literacy Services
Soft skills – such as communication, time management and work ethic – are essential for any workplace. They're the basis of how we operate at work, how we interact with co-workers and the quality of our productivity. Our work literacy training services are instructional activities designed to provide necessary literacy skills in order to obtain and maintain entry-level employability. This service is usually provided through individual instruction
with consideration of one's work goals.
Who is Work Literacy For?
The work literacy services here at MTBM Global Rehabilitation Consultants are a resource for eager-to-work individuals who are disabled. Our knowledgeable, experienced and demonstrated team is passionate about assisting you by means of our proven and expertly constructed vocational rehabilitation services. Driven to help and best assist, we use individualized methods to support and guide you or a loved one to attain, develop or realize their professional abilities – to be performed without or with minimal assistance.
ADD
Autism
Cognitive impairments
Learning disabilities
Psychiatric disabilities
Physical Disabilities
And more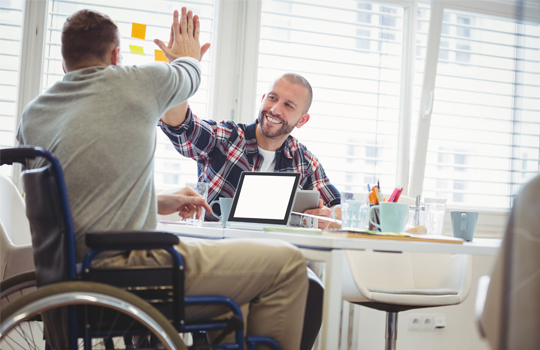 What Do Our Work Literacy Services Involve?
The work literacy services at MTBM may include but are not limited to developing a comprehensive, individualized plan and evaluating the work literacy needs and abilities of the individual. Depending on the identified and expressed preferences of the client, support and or training may address skills needed, work attitudes and skill(s) exploration. Our soft skills enhancement training addresses barriers to communication with the workplace,
barriers to employment success and digital communication skills.
Work literacy training is the development of soft skills to enhance a consumer's employability. These instructional activities are designed to provide necessary literacy skills in order to obtain and maintain entry-level employment. This service is provided through individualized or
group settings with consideration to the consumerswork goals.
Why Choose MTBM for Work Literacy Services?
MTBM Global Rehabilitation Consultants, LLC has certified rehabilitation counselors and employment consultants who are equipped to offer training and foundational literacy skills to consumers with disabilities. We are a local group that is passionate about enabling individuals to join the community's economy. Our highly educated, trained and dedicated professionals are accustomed to, prepared for and enthusiastic about finding and executing a solution that will guide you or a loved one into the workforce.